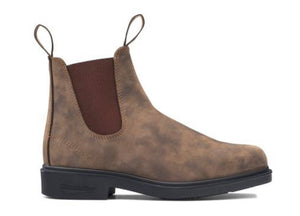 This boot can be your favourite dress boot, your knock-about go-to boot, or both. From town to trail without missing a step. All-day comfort, dry feet, no-lace ease. Chelsea boot height never goes out of style. 
PLEASE NOTE: All sizing is Australian; to calculate a size, subtract 3 sizes from the Canadian shoe size for Women's sizing, and subtract 1 size from the Canadian shoe size for Men's sizing.
Premium leather.
Polyurethane midsole for improved comfort and cushioning.
Thermo-urethane outsole for improved resistance to hydrolysis and microbial attack.
Steel shank for torsional stability.
Removable footbed.
PORON® XRD™ in the heel strike zone.
Extra set of footbeds for fit adjustment.
Leather lined.
*PLEASE NOTE: This boot features a pre-distressed leather that can vary in appearance. The boot you order may be lighter or darker than those pictured here