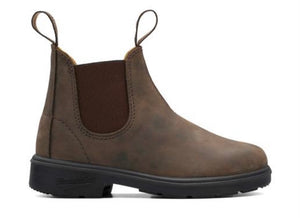 Gives kids pull-on, kick-off freedom! Blundstone unisex sizing, comfort and long wear make these a favourite for mom and dad, too! Removable footbeds for months more wear. PLEASE NOTE: All sizing is Australian; to calculate a size, subtract 1 size from the Canadian shoe size for unisex Kids' sizing.
Kids leather boot with weatherpoof elastic.
Full length additional footbed supplied to extend size range.
Polyurethane sole.
Oil, acid and organic fat resistant.