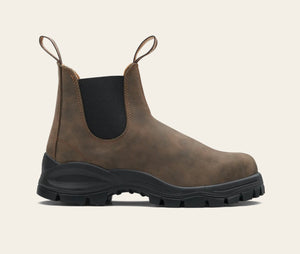 Introducing Blundstone Lug Sole, raising the bar for grip, bounce, wear, and good value.  Blundstone all-day, all-season, pull-on, kick-off comfort, stepped up a notch.
PLEASE NOTE: All sizing is Australian; to calculate a size, subtract 3 sizes from the Canadian shoe size for Women's sizing, and subtract 1 size from the Canadian shoe size for Men's sizing.
Premium weatherproof leather.
Rubber Lug sole with deep grooves designed to increase slip-resistance.
Removable Comfort Arch Footbed with XRD® technology for maximum cushioning .
Leather lining for added comfort.